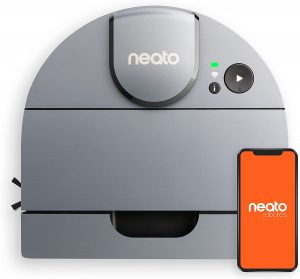 The Neato D10 Smart Robotic Vacuum is for $599.99 shipped on Amazon now. Down from $800, this is matching the all-time low while marking one of the first overall discounts at $200 off. With a D-shape design and main vacuum brush that is up to 70% wider than brushes found on round robots, Neato intelligent robot vacuum cleans closer to walls and deeper into corners than competitors. Neato also has a very-large 0.7-liter dirt bin to hold more dirt, dust, and dander for more complete clean. Other great features are that the True HEPA performance filter captures up to 99.97% of allergens and fine dust particles as small as 0.3 microns. Breathe freely with the Neato D10; Designed with a mesh cover that is easy to clean and prolongs the filter's life.
And we are also tracking this brand's lineup, the Neato D8 Robot Vacuum Cleaner. Amazon is offering Neato D8 Robot Vacuum Cleaner for $349 with $250.99 off. We have seen it sell for less once in the past though since the pre-Thanksgiving shopping holiday.  Featuring with high-performance filter which is designed to trap the stuff that makes us sneeze and itch, capturing up to 99% of allergens. It is loaded with many of the same features with the Neato D10 otherwise, and our hands-on coverage offers some extra insight into the differences.
Features of Neato D10 Smart Robotic Vacuum
Trap allergens, breathe freely. The Neato D10 leads the industry with a True HEPA filter capturing up to 99.97% of allergens and fine dust particles as small as 0.3 microns. 

Designed to complete the job. The Neato D10 vacuums longer than ever with up to 300 minutes runtime. Optimize performance and battery life by using energy-saving Eco mode for general vacuuming to high-performance Turbo mode for those areas that need a more powerful clean

Exclusive Max Mode for maximum clean. Go beyond Eco and Turbo mode for an even deeper clean with maximum pickup.

Big brush and dirt bin. Huge difference. Neato's D-shape allows for a brush that's up to 70% bigger than those round robots & a 0.7-liter dirt bin holds more dust & dander during a cleaning session for less frequent emptying. 

A boost for bigger jobs. For some extra power to finish a long cleaning run, there's Quick Boost. 
More to read:
Apple's 512GB M1 Mac Mini is back to its lowest price