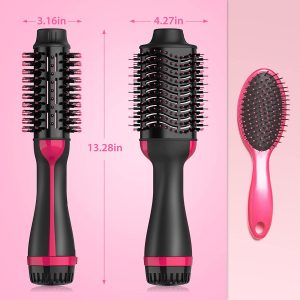 INSO hair dryer brush takes up to 42% off at $34.88 now. It is a new low that Amazon offers.  INSO hair dryer brush has a ceramic coating on the surface to prevent over styling your hair. And evenly distributes heat to dry quickly and reduce heat damage. The negative ions it produces saturate the airflow, effectively reducing hair frizz and static electricity. Dry and style your hair easily at home with this hot air brush. At the same time, it is designed with nylon needles and tufted bristles to detangle, smoothen and make hair shinier. It also provides anti-scald protection while massaging the scalp for a more comfortable experience.
INSO One-Step Hair Dryer Styling Tips
Firstly use towel drying hair to remove excess water.

Divide the hair into a few sections that are easy to manage.

Switch blow dryer brush to proper temperature.

Use brush blow dryer to start from the roots of hair, slowly brush to the bottom.

For Straightening: Place the dryer brush at the roots of your hair, brush down towards the end. For Volumizing: Place this hot air brush near the root of your hair, hold it there for 2-3 seconds, then rotate it towards your back while brushing to the end.

Repeat the remaining parts with hot air bush, until the hair is dried into luxurious, fluffy style.
More to read:
Jensen FM Bluetooth Boombox Saves 36% at $45 on Amazon